Corleone Family Photos

The Godfather
- Connie's Wedding (1945)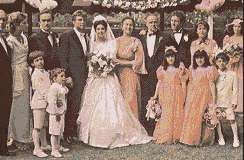 (l.-r.) Tom Hagen (29), Theresa Hagen (25), Frank Hagen (5), Andrew Hagen (3), Fredo (26), Carlo Rizzi (groom), Connie (18), Carmella (48), Vito (53), Sonny (29), Sonny's twins Rosary & Anne Marie (8), Sandra, Frank (5), and Lucy Mancini (maid of honor)
This version includes Michael (25) and Kay (18). But Santino Jr (1) never made it...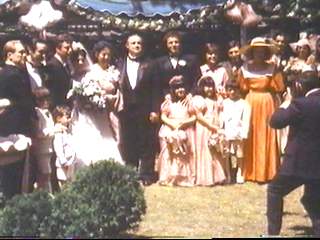 The Godfather Part II
- Anthony's Communion (1958)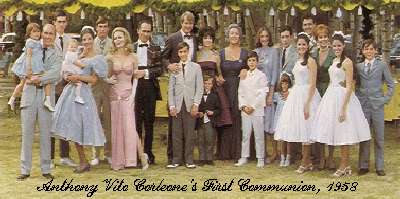 (l.-r.) nameless Hagen daughter (5), Tom (42), Frank Hagen (18), nameless Hagen daughter (1), Theresa Hagen (38), Andrew Hagen (16), Dianna Dunn-Corleone, Fredo (39), Merle Johnson, Victor (9), Connie (31), Michael Francis (3), Carmella (61), Anthony (7), Kay (31), Michael (38), Mary (5), twins Rosary & Anne Marie (21), Frank (18), Sandra, Santino Jr. (13)

The Godfather Part II
- circa. 1927*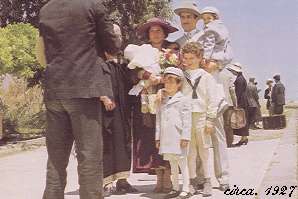 (l.-r.) Carmella (holding Connie), Fredo, Sonny, Vito (holding Michael)
*This picture doesn't make much sense! Supposedly Connie was born in 1927, which would date this picture that year. But Michael was born in 1920. Does he look 7 in his father's arms? Micheal looks 3 to me! Does Fredo look 8? And Sonny 11? Vito passes for 35 and Carmella for 30, however. And who's the old lady between Carmella and the photographer?
P.S. Did you know that young Sonny, here, was played by Roman Coppola, Francis's son?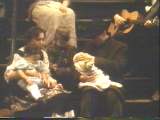 The Godfather Part III: The party in Michael's honor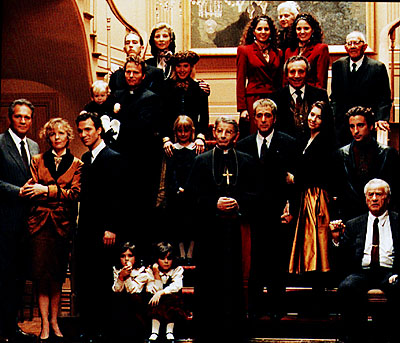 Hmmm... let's see...
(l-r) Douglas (Kay's husband), Kay, Anthony (next to mommy). Above, Tom's family: Frank, Andrew, Theresa, daughters. Sonny's twins appear to be on top. Old woman (Sandra?) and man? Below, Johnny Fontane. Center, Archbishop Gilday, Michael, Mary (next to daddy), Vincent, Don Altobello. Another set of young twins?
Ages in 1979: Michael (59), Connie (52), Kay (52), Theresa Hagen (59), Anthony (28), Mary (22), Victor (30), Michael Francis (24), twins (now named Francesca & Kathryn, 37), Frank Corleone (39), Santino Jr (32), Vincent (31), Frank Hagen (39), Andrew Hagen (37), Hagen daughter (26), Hagen daughter (21)
The "Other" Corleone Family: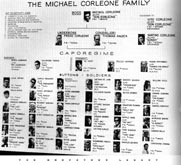 Corleone Family Organization
(from The Godfather Legacy)

<! -- FOOTER -->
top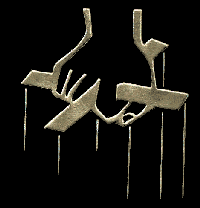 Compilation, Layout, etc. ©1995-2006 J. Geoff Malta
Important Copyright Information
Most images & sounds © Paramount Pictures