CAVALLERIA RUSTICANA
(In one act)
Libretto by:
Giovanni Targioni-Tozzetti
and Guido Menasci
Music by:
Pietro Mascagni
-*-
Performed by
The Metro Lyric Opera of New Jersey
July 20, 1996.
Conducted by Anton Coppola
-*-
THE CHARACTERS
Santuzza
Turiddu (the role Anthony Corleone played)
Alfio
Lola
Lucia
-*-
THE STORY
Turiddu, recently returned from the army, lives with his mother, who keeps a wine shop in the village square. He was betrothed to Lola when he left for the army. On his return, he found her married to Alfio, a teamster. Turiddu consoled himself by making love to another village girl, Santuzza. Soon, he betrayed her, then abandoned her. Lola's husband was frequently absent and she encouraged Turiddu's secret lovemaking. This situation exists before the curtain rises.

The curtain rises on a village square with a church on one side and a tavern, the home of Mamma Lucia, on the other. It is Easter day. Villagers cross the square and enter the church. Santuzza appears and goes to Mamma Lucia's. She asks for Turiddu. His mother replied that he went out of town to buy wine for the tavern. Santuzza refuses to believe it and suspects that he is with Lola.

Alfio, Lola's husband, enters, singing a lusty song about his horse and wagon. The villagers join his song. Lucia greets Alfio, who asks her if she still has some of her good wine left. She tells him that Turiddu has gone to Francofonte to replenish her supply. Alfio replies that he saw him that very morning near his home. When Lucia expresses surprise, Santuzza warns her to be quiet. Alfio then goes on his way. The Easter music starts and all kneel and join in the singing.

All go to church except Lucia and Santuzza. Now Santuzza pours out her sad and bitter story. Lucia is appalled! Santuzza cries out that she is accursed and begs Lucia to pray for her soul. Lucia enters the church, leaving Santuzza alone. Turiddu enters. Surprised to see Santuzza, he asks why she does not go to mass. She replies that she cannot and accuses him of perfidy. The scene is interrupted by Lola's entrance. She asks if she is going to mass. Santuzza replies that only those should go who are without sin. Lola gives thanks to God that she is without sin and enters the church. Turiddu is about to follow Lola when she tells him to stay with Santuzza. Turiddu then turns furiously on Santuzza. the quarrel becomes violent and Turiddu hurls Santuzza to the floor and runs into the church. Santuzza screams a curse after him.

Alfio enters the scene, Santuzza frantic with jealousy, tells him of his wife's relationship with Turiddu. Alfio swears vengeance. Santuzza cries in agony of remorse. They both leave the stage while the orchestra plays the intermezzo.

The services are over as the people leave the church, Turiddu invites them to drink with him. Alfio enters and Turiddu offers him wine. Alfio refuses, saying that it would be like poison in his veins. Turiddu throws the wine from the glass. Alfio challenges Turiddu to a duel. They agree to meet in the garden. Turiddu now asks his mother for her blessings and asks her to take care of Santuzza should he not return. He leaves to face Alfio. Suddenly a woman rushes in shrieking that Turiddu had been killed.
-*-
NOTES ON "CAV"
Cavalleria Rusticana, opera in one act by Pietro Mascagni (1863- 1945), libretto by Giovanni Targioni-Tozzetti and Guido Menasci. First performance: Teatro Constanzi, Rome, May 17, 1890.
"Cav," and the opera "Pagliacci," have provided a favorite double bill for years and are in fact linked, perhaps indelibly, in the mind of the opera public. The careers of Leoncavvalo (composer of Pagliacci) and Mascagni are remarkably similar in that each achieved lasting fame with a single opera, while their other works fell into comparative obscurity.


Mascagni was a struggling music teacher when he learned, in 1888, that the music publisher Sonzogno was offering a prize for the best one-act opera. When he presented his score for "Cav" to the judges in Rome, it was awarded first prize. Its subsequent production made operatic history and inspired a rash of melodramatic one-act operas, Leoncavallo's Pagliacci among them.


Mascagni composed other operas after his initial success, but his reputation rests almost entirely upon Cavalleria. None of his other operas approached the success of Cav as it is called, although L'Amico Fritz is considered more refined and more carefully written than Cav, with its brutal libretto and catchy, commonplace tunes. Other operas which are sometimes performed are Zanetto, composed in 1896 and scored for strings and harp, Iris, 1898, which became the most famouse of his works after Cav, and Lodoletta, in 1917.


Cav and I Pagiacci (The Clowns) are often performed together, and known as "Cav-Pag."
-*-
ANTON COPPOLA
Renowned and revered conductor and composer, who maintains an assiduous schedule. Mr. Coppola has and presently conducts for most major opera companies throughout the U.S. including the San Francisco & N.Y.C. Opera Companies. He also has conducted musical comedy on Broadway and extends his talent to the cinema world in such movies as THE GODFATHER III and Dracula. Mr. Coppola is now in the process of composing an opera on the difficult and controversial subject of "Sacco & Vanzetti."


<! -- FOOTER -->



top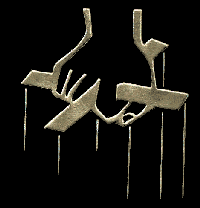 Compilation, Layout, etc. ©1995-2006 J. Geoff Malta
Important Copyright Information
Most images & sounds © Paramount Pictures