Even
More
Trivia
Did You Know...?
Franc D'Ambrosio (Anthony in GF3) has been with The Phantom of the Opera in San Francisco. He has an Official Website and fanclub.
There are 3 locations for "Godfather's Exterminating" in Minnesota
There's a "Godfather Security Systems" in New York
Of course, you can find "Godfather's Pizza" in at least 40 US States
On Friday, April 7, 1995, Shenandoah University awarded an honorary doctor of arts degree to Robert Duvall in recognition of his significant contributions to the arts
Childhood Nicknames: Pacino was "Sonny" - Brando was "Bud"
To help appease the Mafia during the shooting of The Godfather, several mafiosi were given minor acting and crew parts
Michael V. Gazzo (Pentangeli) was a writer for, and appeared in, Elvis Presley's King Creole in 1958!
1970's Lovers and other Strangers featured the first major roles for both Richard Castellano (Clemenza) and Diane Keaton (Kay)
1971's The Gang That Couldn't Shoot Straight included De Niro, Carmine Caridi (Carmine Rosato), and Michael V. Gazzo
1978's King of the Gypsies included Sterling Hayden (McClusky) and Michael V. Gazzo
1978's Fingers included Gazzo, Danny Aiello (Tony Rosato), Dominic Chianese (Johnny Ola) and Lenny Montana (Luca Brasi)
Gazzo played "Sonny" in 1984's Canonball Run II, with Abe Vigoda (Sal) & Alex Rocco (Moe Greene)
1972's Pulp featured Amerigo Tot (Michaels' bodyguard in GF2), Al Lettieri (Sollozzo), and Leopoldo Trieste (Signor Roberto)
Dominic Chianese (Ola) and Lee Strasberg (Roth) played with Pacino in ...And Justice For All
Pacino and Chianese appeared in a workshop "Chinese Coffee" in 1989-90
Rudy Bond (Cuneo in GF1) played opposite Brando before in A Streetcar Named Desire (1951) and On The Waterfront (1954)
Richard Bright (Al Neri) played opposite Pacino in Panic in Needle Park
Pacino and Bright were on stage together in Does a Tiger Wear a Necktie? (Belasco Theater, New York City, 1969), The Basic Training of Pavlo Hummel (Longacre Theater, New York City, 1977), and Richard III (Cort Theater, New York City, 1979)
Pacino and Cazale were on stage together in The Indian Wants the Bronx (Eugene O'Neill Memorial Theater, Connecticut, 1966), The Resistible Rise of Arturo (Charles Playhouse, Boston, 1975), and The Local Stigmatic (Joe Papp's Public Theater, New York City, 1976)
Pacino and James Caan played together again in Dick Tracy. The film also included Henry Silva, who played in 1957's A Hatful of Rain, which was written by Micheal V. Gazzo. Silva and Gazzo were also together in Canonball Run II, Alligator, and Love and Bullets
Not only did Brando reprise a familiar-looking Don in The Freshman, but the film also included Gianni Russo (Carlo) and Bruno Kirby (Young Clemenza)
Gazzo played with Miriam Colon (Mama Montana in Scarface) in 1981's Backroads
Alex Rocco (Moe Greene) did voices for The Simpson's (1989) "Itchy & Scratchy Show"
Pacino and De Niro both studied under acting coach Lee Strasberg (Hyman Roth)
Lee Strasberg's real name was Israel Strassberg
Harry Dean Stanton (FBI Man #1 in GF2) had a little problem the night of Jan. 20, 1996: He was tied up and robbed in his Hollywood home by gunmen who then loaded his Lexus with electronic goods and sped off. Two men have been arrested. [source: CNN]
Frank Sivero (Genco) was Frankie Carbone in GoodFellas
Marianna Hill (Deanna Dunn-Corleone) (b. 1944) was working in the Lee Strasberg Studio in London (which closed its doors in May, 1996)
Dog Day Afternoon united Pacino, Cazale (Fredo), Dominic Chianese (Ola), and Carmine Foresta (GF2 policeman)
Joe Spinell (Cicci) played opposite Pacino before in Cruising
City Hall reunites Pacino, Danny Aiello, and Bridget Fonda
Of course, Heat reunited Pacino and De Niro (but it's the first time they appear together)
Carmine Caridi played two different roles: He was Carmine Rosato in GF2, and Albert Volpe in GF3
Andy Garcia was born Arturo Garci-Menendez in Havana, Cuba, on 4/12/56
Raf Vallone's (Cardinal Lomberto in GF3) full first name is Raffaele
Bridget Fonda is the daughter of Peter, granddaughter of Henry, and niece of Jane Fonda
Don Novello (Dominic Abbandando in GF3) is better known to us as Father Guido Sarducci
John Savage (Andrew Hagen in GF3) and John Cazale were with De Niro in the Deer Hunter. Meryl Streep (who lived with Cazale) was also in film.
In 1988 the Library of Congress established the National Film Preservation Board, to preserve film deemed "culturally, historically, or esthetically important." Each year since 1989, the board has selected 25 films to add to the National Film Registry. In 1990, The Godfather (1972) was included. In 1993, The Godfather Part II (1974) was included.

In Brando's own words

"I had a great deal of respect for Don Corleone; I saw him as a man of substance, tradition, dignity, refinement, a man of unerring instinct who just happened to live in a violent world and who had to protect himself and his family in this environment. I saw him as a decent person regardless of what he had to do, as a man who believed in family values and was shaped by events just like the rest of us."
"On The Godfather I had signs and cue cards everywhere -- on my shirtsleeves, on a watermelon and glued to the scenery... Not memorizing lines increased the illusion of reality and spontaneity."
"When I saw The Godfather the first time, it made me sick; all I could see where my mistakes and I hated it. But years later, when I saw it on television from a different perspective, I decided it was a pretty good film."
"I'd gotten to know quite a few mafiosi, and all of them told me they loved the picture because I had played the Godfather with dignity. Even today I can't pay a check in Little Italy."
"I didn't say much to Pacino when we were making The Godfather, but I not only consider him one of the best actors in America, but in the world... I never meant anything more in my life."

In Pacino's own words

"I didn't know what [Coppola] expected of me to do, he tested me with the wrong scene!" [Referring to his aweful screentest of the wedding scene]
"Francis, I don't want to do this anymore!" [Said after the second take of the Sollozzo killing scene. Pacino thought he was too nervous, which is what Coppola was looking for]
"I sat in the theatres when I was a kid just watching him. Now I'm playing a scene with him. He's God, man." [Referring to Brando]
"Get these lifts out of my shoes and I may walk straighter" [Said after Coppola told him he was walking like Donald Duck]
"Well, I don't think so." [After Paramount offered him $150,000 to appear in Part II. He agreed after Coppola inspired him; and $600,000]

In Puzo's own words

"Brando is very fine, but the great bonus was Al Pacino. As Michael, Pacino was everything I wanted that character to be on the screen. I couldn't believe it. It was, in my eyes, a perfect performance, a work of art."
Section A | Section B

<! -- FOOTER -->



top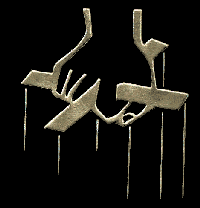 Compilation, Layout, etc. ©1995-2006 J. Geoff Malta
Important Copyright Information
Most images & sounds © Paramount Pictures