The Godfather III
SOUNDTRACK




TRACKS:
Main Title**
The Godfather Waltz**
Marcia Religioso
Michael's Letter**
The Immigrant**/Love Theme from The Godfather III
The Godfather Waltz**
To Each His Own [J. Livingston/R. Evans; Perf. by Al Martino]
Vincent's Theme***
Altobello***
The Godfather Intermezzo***
Sicilian Medley: Va Pensiero [Verdi Arr. by C. Coppola] / Danza Tarantella / Mazurka (alla Siciliana)
Promise Me You'll Remember (Love Theme from The Godfather III) [Lyric by J. Bettis; Perf. by Harry Connick, Jr.]
Preludio and Siciliana* [Turiddu]
A Casa Amiche* [Turiddu and Chorus]
Preghiera* [Chorus]
Finale* [Alfio, Turiddu, Lola, Lucia, Santuzza, Chorus]
Coda: The Godfather Finale**


Hear Samples / Buy It


*Excerpts from "Cavalleria Rusticana"
Lyrics by G. Targioni-Tozzetti and G. Menasci.  
Music by Pietro Mascagni.  Conducted by Anton Coppola.  
Chorus and Orchestra of the Accademia Musicale Italiana.

Original music composed, arranged and conducted by Carmine Coppola.  
Additional music and themes by **Nino Rota.  ***Nino Rota/Carmine Coppola.
Executive Album Producer: Francis Ford Coppola
Associate Album Producer: Stephan R. Goldman

All Songs ASCAP

(P)©1990 CBS Records, Inc. Manufactured by Columbia Records, Inc. (47078)



Songs listed in film's credits:
To Each His Own; Vitti 'Na Caozza
En Compari; Beyond the Blue Horizon
Lover
Senza Perdono
Miracle Man (E. Costello)
Dimmi, Dimmi, Dimmi
Gregorian Chant
Brucia La Terra
Santa Rosalia (from La Baronessa di Carini)
Promise Me You'll Remember
excerpts from Cavalleria Rusticana

My Two Cents:
This recording is great, as it takes you back to memorable scenes from The Godfather III. Unlike the soundtracks to Parts I and II, this disk, at least, is 54min:25sec long. The other two -combined- are not much more than that! In addition, this recording is D|D|D unlike the others. There are only four photos in the booklet, yet with much better quality than the Part I booklet. BUT WHERE THE HECK IS BRUCIA LA TERRA!!!
<! -- FOOTER -->



top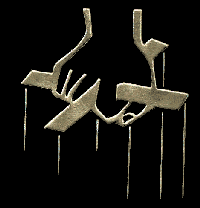 Compilation, Layout, etc. ©1995-2006 J. Geoff Malta
Important Copyright Information
Most images & sounds © Paramount Pictures